Blog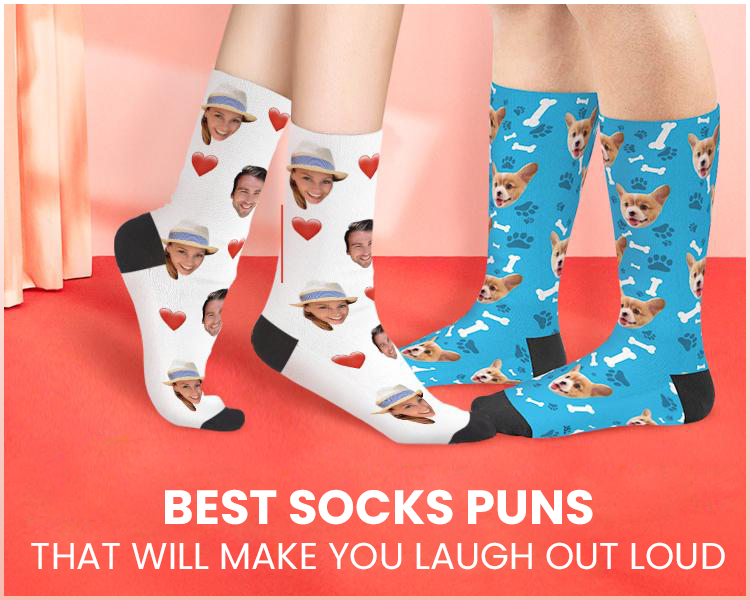 Socks have been an essential part of every person, starting from a baby to grandpas. They are not only the most comfortable but also one of the quirky elements nowadays.
Some tell you about what the sock wants to say to you, whereas some will tell you what you feel for your socks; some even have more profound meaning, but one thing i can guarantee is they will make you giggle.
Next time you wear your socks, your mind will take you back to some of these sock puns for sure.
Being a part of the sock business, we make a fair amount of squirm jokes about socks! One or the others is a lover of sock puns. Probably socks allure people with a fantastic sense of humor, so recently, funny puns, memes, and crazy jokes invaded the sock world. Nowdays, customised socks are anyways too cool.
Be it mothers day, Valentine's day, or any other day, gifting some socks with jokes from our special customized sock collections may grumble the person for some time, but that will make them feel like a joke king.
As a bonus in our attempt to make you laugh out the loudest, we have compiled the list of some interestingly funny sock puns with the people who want you to sock it to them! You'll get a dose of laughter after reading them.
25 Hilarous Sock Puns
As kids, didn't this thought cross over your mind , when all your friends were waiting outside to play Pokemon?
What say on a weekend with a glass of wine and watching Netflix?
This one is totally good to motivate yourself if you are still single!
Moms hardly get to sleep in peace with kids jumping all around. So here it is, all the moms kindly notify everyone around "Mom off duty, Go to dad"
So this sock pun, i found on some social media platform but seems a total reality. I could laugh and relate that yes this is simply me! What do you feel?
Men or Women, both know how to prove themselves right! Whatsoever may be the situation.
Checkout this genuine conversation, which actually turned into a hilarious pun.
How many of you lose your 1 socks like a zillion times!
Here's a cute sock pun for Valentine's day!
What do you have to say about this?
If you are a camera lover, then this sock pun is just too hilarious for you.
Isn't this always on your mind when you have a little cute pair of socks?
Here's another funny socks pun. Try answering!
14. Check out this silly one! Why miss word play when talking about puns?
15. Finally I found the reason for all my cremated socks ! Did you?
16. Any thoughts about puns on strip poker? We have one!
17. The next sock pun is for all the facebook lovers
18. This is something that your socks want to tell you, only if you can feel it.
19. Jokes are important for every realistic situation as well. Check this funny reality of life.
20. One more pun for the love of your life!
21. Won't you laugh out loud if this was the answer your uncle gave you?
21. Don't snuggle, but isn't this the truth?
22. Do all husbands agree over this?
23. Story of every father ! Lol!!
24. Dads will be dad ! Here's a sock pun which complete suits the saying
25. Why only moms and dads, Grandpa deserves a break too!!
This is our small effort to let you know the hilarious side of this important dressing elements. Get your own customized cool socks from printyo and gift it to your crazy lot showing your witty site! Trust us they would simply laugh out loud.