Blog
It is a known fact that socks and summer do not go together. However, it can be difficult for those socks addicts out there to choose between sweaty feet or going sockless. We all know that a certain comfort comes with wearing socks, especially with those really cute boots or stylish Vans. But this may lead to that familiar rancid smell that oozes out of shoes that have been worn for a long time. These days personalised socks are too much in trend. You can even get these socks personalised to follow the trend.
Why do we need cool socks in the summer?
Summer can be harsh not just for one's exposed skin but also for the parts of one's body that are covered up. The high temperatures can lead to excessive sweating. This sweating creates a damp environment where microorganisms can thrive. Therefore, this damp environment present in various parts of one's body is the perfect place for bacteria and fungus to grow. The foot is no exception to this rule as well. It can lead to several dermatological problems.
Can sweaty feet cause health problems?
The answer is absolute. The damp environment mentioned above is exactly the reason for the health problems. The growth of bacteria on the surface of the skin is highly dangerous to the cells present on the skin. Cells are sensitive to changes in their immediate environment. Bacteria tend to carry out their form of defecation, which can lead to a change in the pH of the cells. Therefore, the skin in this region starts to undergo inflammation.
These are the events that take place when one gets an Athlete's Foot. Except, in this case, the inflammation occurs due to the growth of the fungus. There are other ailments like excessive sweating, known as Hyperhidrosis that also affect the skin health during sweaty summers.
So how does one combat this problem? The answer is cool summer socks. Although this may sound like an indirect oxymoron, summer socks do exist. Following are the top 30 cool socks in trend this year:
1. Champion Dri Moisture Socks
These socks are more suited for trips to the gym. They consist of Cotton and Polyester.
2. Merino Socks
Made of Merino Ram fleece, these socks are known for absorbing sweat and having an insulating effect. The best part is that after it absorbs sweat, the socks still feel dry.
3. Darn Tough collection
These socks consist of the aforementioned Merino wool along with Nylon. Therefore, there is no residual sweat or wet feeling. It also contains breathing panels at the side.
4. Balega Unisex Socks
These consist of synthetic materials like Polyester and Nylon. They are available in 15+ colors.
5. New Balance NBX Hydrotec Socks
These socks possess a moisture-wicking feature. Therefore, the foot will always be dry and well ventilated.
6. PowerSox Cushion Socks
These are primarily made of cotton and a tinge of Polyester. They possess Coolmax technology which aims to keep the feet as cool as possible.
7. Saucony Bolt Performance
The majority of this pair consists of Polyester. Therefore, the socks are a perfect contender for affordable athletic socks.
8. Smartwool Micro Socks
These socks are made of wool. But this wool is not just any wool. The micro wool material can absorb a significant amount of moisture.
9. Stance Men's Athletic Socks
The success of this pair is due to its FEEL360 technology. This technology prevents ripping and fraying.
10. Kodal Copper Infused Socks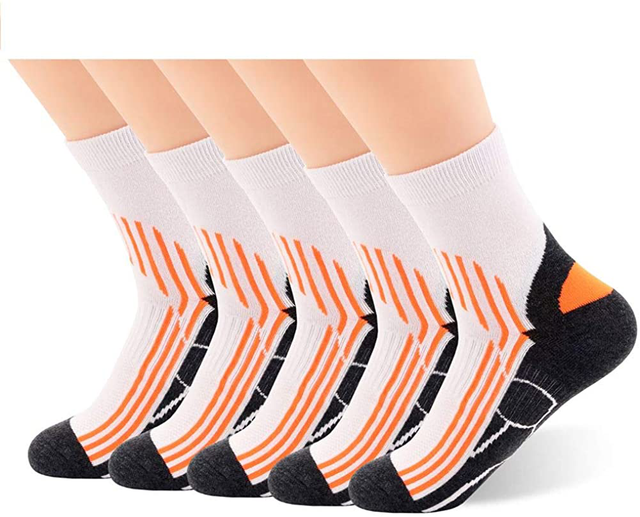 Although this is not a mainstream brand, its socks are known to have high moisture absorption capacity. These socks come with unique copper ion-infused technology and a foot loop to protect the feet from sweat and friction.
11. Wigwam Double Duty Socks
These socks consist of the Dry max Material. The material is induced with microbe-resistant chemicals that will prevent not only the growth but also bad odors.
12. 2XU Running Socks
These socks are a great option for runners. They contain compression panels to prevent slipping and increase aeration. The material is made of Nylon and spandex along with cotton.
13. Bombas
This is probably one of the more famous companies that specialize in creating summer socks. It contains anti-stink technology. This is perhaps one of the most popular brands that create summer socks. Each sock comes with anti-odor technology and breathable material, allowing you to enjoy the summers without worrying about sweaty feet.
14. LuluLemon No show Socks
This no-show sock aces the illusion of "no show". The snug fit provides comfort as well as dryness.
15. Nike Long Haul Socks
Nike's socks are a favorite among travelers and athletes.
16. Under Armour Socks for Elevated Performance
These are also common among athletes for their aeration abilities.
17. Thorlos Experia No Show Socks
These stylish no-show socks are perfect for those fancy leather shoes. They have maximum moisture absorption capabilities.
18. Serisimple Bamboo Socks
These socks are made from Bamboo Rayon material. This material is perfect for moisture-wicking.
19. Brooks Running Socks
These socks are masterfully engineered to provide optimum ventilation.
20. Eddie Bower CoolMax Socks
21. Dickies Men's Dri-tech Moisture Control Quarter Socks Multipack
These socks are a great pair for hiking. They hold the footwell and provide some much-needed cushioning.
22. Under Armour Adult Charged Cotton 2.0 Crew Socks
These socks are your activewear essentials! They not only come with arch support for comfort, but also have a unique anti-odour technology.
23. Enerwear Cotton Moisture Wicking Extra Heavy Cushion Low Cut Socks
As the name suggests, these socks are made of moisture-wicking material. Their extra heavy cushioning and low cut makes them perfect for those who are on their feet for extended periods.
24. Saucony Anti-Sweat Socks
These no-show socks are perfect for your Vans and boots. With their ultra-wicking and air mesh technology, they are your perfect partners for safe and fresh feet.
25. Hidden Comfort No-Show Running Socks
With mesh panels to ensure ventilation and plush cushioning for comfort, these socks are a favourite among athletes and runners alike.
Therefore, with a pair of these socks, sweaty feet can be a thing of the past. One can now enjoy summer with less irritation and more outdoor activity. Need more information regarding feet and socks? Explore our website to know more about our products. Printyo offers to create a range of customized socks and help one express their personality through the socks they wear.
FAQs:
Q1. What are the best types of socks for sweaty feet?

Ans: Any pair of socks that have a polyester material will do the job. One could also opt for Merino wool socks or Dry Max socks.
Q2. What is the best product for sweaty feet?
You can tackle sweaty feet by wearing socks that prevent the accumulation of sweat.
Q3. Which socks are best for summer?
The socks containing the following materials are the best for summer:
Polyester
Merino Wool
Olefins
Dry Max material.
Q4. Do compression socks help with sweaty feet?
Compression socks can work wonders with sweaty feet. This is because of the moisture-wicking capacity of the material.
Q5. I don't want to spend a ton of money on one pair of socks for sweaty feet; are these worth the investment?
Many athletes swear by the benefits of summer socks. It is safe to say that these are worth the price.
Q6. What should you know before buying socks for sweaty feet?
There are some factors you must not skip when you are looking for the perfect pair of socks for sweaty feet.
The length of socks: The aim of the socks is to prevent sweaty feet, and also to keep the feet smelling fresh and clean. The lesser the area covered, the more breathability do the socks provide. The ideal length would be ankle-length socks as they cover your feet and also allow the feet to air out over time.
The material: The material of your socks will determine if you will sweat through them and end up having smelly feet or not. Common materials like cotton and nylon are a no-go since they are not very breathable. It is no wonder that these materials are preferred during winters to keep your feet warm. Look for socks with lighter materials such as merino wool support socks, as they keep the feet safe, particularly for athletes.
Q7. How can you keep your feet free from sweating?
First, we must understand what causes our feet to sweat, and subsequently smell. Our skin builds up sweat when the moisture gets trapped and is unable to evaporate through the material. This traps heat and causes the growth of bacteria and other microbes. Sometimes, fungal infections can also develop and give off a peculiar odour from your feet.
The best way to prevent your feet from sweating and smelling is by allowing them to air out. Wash them frequently and thoroughly dry them. Wear loose shoes and forgo the socks wherever possible. If it is absolutely necessary to do so, opt for some of the following socks which allow your feet to breathe and the sweat to evaporate. Also called breathable socks, they are made of moisture-wicking material and light fabrics. You can also wear these during summers to keep your feet cool and fresh.
Q8. Does certain socks make feet stink?
Indeed, they can! Socks that are not made of moisture-wicking material are the most common culprits. Most winter socks are made of warm materials such as cotton, polyester and other synthetic fabrics. Their aim is to trap heat, and they do so by reducing the breathability of the material. These socks, when worn in humid summers, can definitely make your feet stink.